If you haven't heard of Fotona laser technology yet, prepare for the unexpected. Renowned for its incredible versatility and efficiency, the Fotona laser is designed to permanently treat a multitude of skin problems such as:
acne treatments
permanent laser hair removal
Body Tightsculpting
hair restoration,
treatment against nail fungus
snoring treatment
double chin treatment
Skin resurfacing
2D, 3D, 4D treatment
Smooth eyes eye treatment
traitement des lèvres liplase
Body and face vein therapy
Most efficient laser system
With over 50 years of experience in laser technology, Fotona's line of aesthetic laser systems advance the industry with new levels of innovation and performance. Using a science-based approach and working closely with top universities and medical research centers, Fotona has pioneered advanced pulse technologies such as ASP (Adaptive Structured Pulse) that enable delivery of Optimal energy for each cosmetic application, delivering superior results without side effects. The company is recognized as a world leader in the fields of Er: Yag and Q laser technologies.
Acne occurs when the pores of the skin are blocked by sebum, dead skin, or bacteria. Each pore of the skin gives access to a follicle which is made up of a hair and a sebaceous gland. The Fotona laser offers a laser treatment protocol that provides a complete solution to acne problems. The light from the ND YAG laser precisely controls penetrates the skin to target the sebaceous glands and will heat destroy the glands that cause active acne. The NDYAG Fotona laser also speeds up the healing process and stimulates collagen remodeling which is an important aspect of long term acne treatment.
The Fotona laser system for hair restoration is a completely painless process. This innovative laser technology will help you regain your confidence by increasing blood circulation to the scalp and stimulating growth factors to optimize hair growth. The energy released from the laser will stimulate dormant hair follicles without the need for anesthesia or surgery. Back and forth movements with heat are performed several times on the scalp.
Number of treatments needed: 3 to 6 treatments at 2 week intervals.
Contact us now for a free consultation with one of our specialized technicians.
Nightlase Snoring Treatment
Nightlase is a state-of-the-art laser treatment that treats snoring. It is non-invasive, easy to use and effectively reduces or eliminates snoring. The results will allow you to sleep peacefully, feel better and healthier!
Nightlase consists of 3 30-minute treatments spaced 21 days apart. From the first treatment, a reduction of more than 50% is noticed by our patients.
Contact us now for a free consultation with one of our specialized Fotona technicians.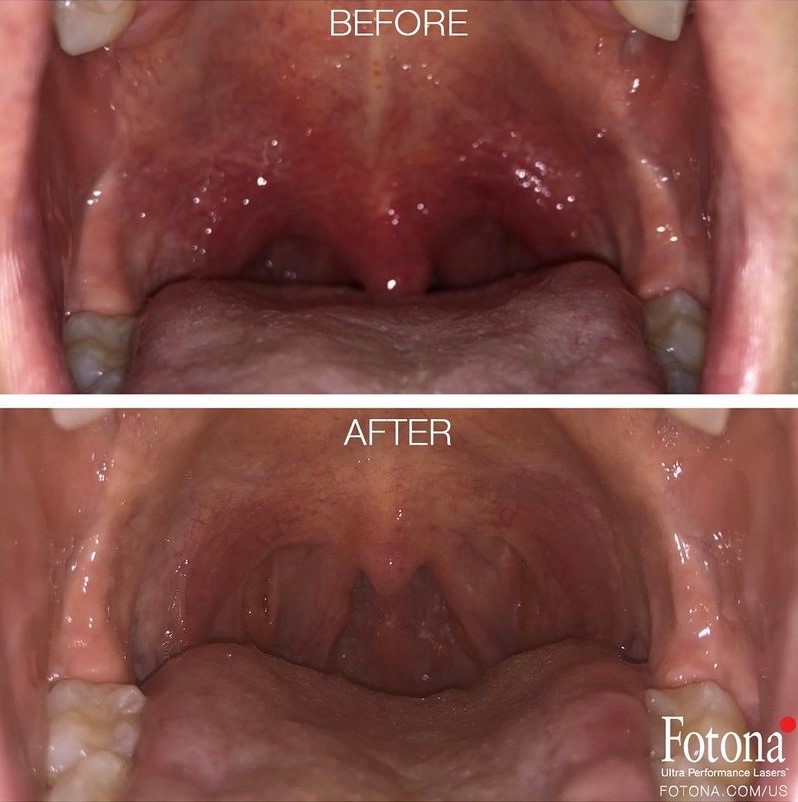 Deep resurfacing treatment and Microlaser peel
Deep resurfacing treatments are meant to produce good results, with rapid healing. A series of 3 treatments is often recommended for patients who want maximum results, especially for the treatment of wrinkles around the eyes, around the mouth and for acne scars and large skin pores. The laser beam gently vaporizes microlayers of the epidermis while producing a thermal impact on the deeper layers of skin, to stimulate the process of cell regeneration and then the production of collagen in the dermis.
minimum recovery time
The results appear natural
Improves the texture and imperfection of the skin
Improves skin tone and tightens pores for a more youthful appearance.
Contact us for a free consultation with one of our Fotona specialist technicians.
Tightsculpting body and double chin treatment
Tightscupting is a unique dual wavelength non-invasive laser treatment to sculpt and firm skin on all areas of the body - arms, buttocks, abdomen, double chin, hips. Etc. Treatment consists of two procedures in one operation. The first step is to reduce unwanted fat and the second is to tighten the skin. The energy of the laser will release heat which aims to heat the fat and then eliminate it naturally by the body, then the energy generated will stimulate the production of collagen which will cause the skin to tighten for optimal results. there should be 4 to 6 sessions spaced 4 weeks apart.
ClearStep laser treatment for nail fungus
Toenail fungus (or onychomycosis) is a common condition that begins with a white or yellow patch under the tip of a fingernail or toenail. The long-pulse NDYAG laser light deactivates fungal pathogens to a depth less than the tissue surface of the nail, without affecting surrounding tissue which remains intact.
The complete treatment requires 4 treatments once a week for 4 consecutive weeks.
Liplase plumper lip treatment
The Fotona Laser Treatment offers a non-invasive, non-surgical, product-free procedure to improve or restore the appearance of the lips. With the laser light and heat stimulate the collagen without altering their natural appearance.
Full treatment requires 4 to 6 treatments every 2 to 3 weeks.
Smooth eyes eye treatment
The Smooth Eyes Protocol is a non-ablative procedure specially designed to treat the eye area, dark circles, puffiness and sagging eyelid skin. With precise and controlled heat, the Fotona laser will stimulate the production of collagen while providing a tightening effect.
Full treatment requires 3-4 sessions at 3-4 week intervals.
4D Skin Rejuvenation Treatment
The Fotona 4D protocol is a series of synergistic and non-invasive laser treatment of the exterior of the face and the interior of the oral cavity, allowing the contraction, in all its thickness, of the collagen which tightens and plumps ( wrinkle reduction) the skin permanently, without injections.
Fotona 4D results:
Wrinkle reduction
Regain tone
Improved skin elasticity
Bright and smooth skin.
The results are observed 4 weeks after each treatment. It takes 3 sessions for optimal results as well as one or two maintenance treatments per year.
Venotherapy treatment is offered to all people who want to work on blood problems (rosacea, telangiectasias, varicose veins). This treatment is used with a laser to coagulate the hemoglobin in the blood capillary which will then be naturally eliminated by the human body.
Full treatment requires 1 to 2 treatments at monthly intervals.